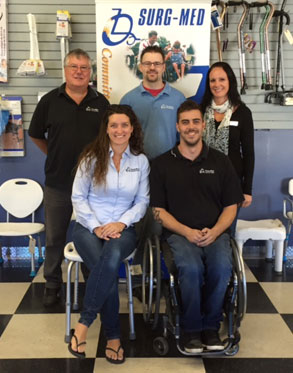 P. G. Surg-Med welcomes you to our new store location in Vernon, British Columbia, proudly named Surg-Med Vernon. The Surg-Med Vernon store is staffed by trained and knowledgeable experts, all of whom are specialized in mobility assessment and repair operations of a wide array of products and equipment.
Surg-Med Vernon is pleased to introduce Kerry Hart, Dana Shewchuk, Lee Bostock, and Cam Lochhead- our talented team of sales representatives and technicians who are highly dedicated to serving your all of your health and home care needs. Each of our staff members are highly experienced in the assessment and repair of manual and power wheelchairs, scooters, and home care products such as beds, mattresses, and other daily living aids.
Come on in to meet the team, or give us a call. We are here to assist you in any way that we can.
Dana Shewchuk, In-Store Sales Representative
Dana is brand new to the health and home care industry, though her former training and career paths have led her naturally to the Surg-Med family. Dana has professional training in crisis intervention and trauma support, and her expertise with Surg-Med Vernon continues to benefit from her experience from when she worked for the Vernon victims' services.
Not unlike many of our valued staff at P. G. Surg-Med, Surg-Med Vernon, and Surg-Med Kamloops, Dana's qualifications also include First Aid training, working as a Wildland fire fighter and as a volunteer firefighter, as well working in the construction industry until very recently.
A busy mom with four kids- two girls and two boys-, Dana enjoys an active and healthy out-door Okanagan lifestyle.
Email Dana: dana.shewchuk@pgsurgmed.com
Lee Bostock, Senior Technician
Lee joined Surg-Med Vernon in 2015, though he has been in the health care equipment business since 2004, as both a service technician and a sales consultant. He apprenticed in the United Kingdom in Electrical Power Engineering, and has attended various courses involving training for Invacare, Pride, Sunrise, Savaria, and Roho. Interestingly, Lee has also worked and lived in the Middle East and in East Africa.
Email Lee: lee.bostock@pgsurgmed.com
Cam Lochhead, Technician
Cameron is a technician with over three years of experience in the industry and has been with Surg-Med since November of 2014. He began working as an electrical apprentice out of high school, but was injured in a motor vehicle accident and left with a spinal cord injury in 2003. After completing his rehabilitation and doing some traveling and soul searching, he decided to go back to school and completed a bachelor's degree in psychology while working as a service technician.
Cameron has experience in several fields including IT, as well as cultural impact assessment and land-use planning. He is currently pursuing his Paralympic dream as a ski racer while continuing to work as a service technician. In his spare time, Cameron enjoys collaborating with fellow musicians and travelling. His understanding of disability due to his own experience with permanent injury, as well as his years spent working in the industry, makes him a real asset to the team.
Email Cam: cam.lochhead@pgsurgmed.com
Contact our Vernon location
4206 – 25th Avenue
Vernon, BC
V1T 1P4
Hours: Monday to Friday, 8:30am to 4:30pm
Tel: 250-549-7288
Fax: 250-549-7281
Toll Free: 1-866-942-7288
Map to our location